Char Dham Travel Guide: Head off for a Spiritual Journey in India by Car Rental Jaipur
BY Admin
Char Dham Yatra is a revered way of experiencing the spiritual side of Indian beauty which attracts pilgrims from all throughout the country. It is the holiest site of India where Hindu devotees thronged in abundance to delve into cultural India. It is so named as Char Dham because of the four destinations located in different directions of the country, that considers the Badrinath, Dwarka, Puri, and Rameshwaram. While being on a Char Dham Yatra Tour by Car, you will explore the popular pilgrimage sites like Yamunotri, Gangotri, Kedarnath, and Badrinath in Uttarakhand which is considered as Chota Char Dham to differentiate it from the bigger route of Char Dham.
Whenever it comes to go on a religious tour in India, Char Dham Yatra is the most famous pilgrimage route which attracts over millions and billions of devotees paying homage to these religious destinations in aspiration attaining inner peace by taking the blessing of Lord. This route of Char Dham Yatra by Tempo Traveller goes from left to right which means - starting from Yamunotri to Gangotri, Kedarnath, and culminating the journey at Badrinath.
When to plan Char Dham tour?
Char Dham Tour can only be explored from May till October every year which is the specific time of travelling this route. But
How long will the journey go on this tour?
All the four important destinations of Char Dham takes almost 10 to 11 days to cover each and every sacred place in its best way. Nowadays, people choose to travel by helicopter service which can let the tour complete in 2 days, but this is not a great option if you are willing to enjoy your journey to the fullest. Thus, it is highly recommended to go slowly and enjoy each and every perk of your tour by travelling through the best car rental service.
Places you will visit in this route -
Yamunotri - As the name suggests, Yamunotri is a place where River Yamuna resides and is also regarded as the seat of Goddess Yamuna. The main highlight of this place is a temple devoted to Goddess Yamuna which is engulfed by mountains offering scenic vistas to a traveller.

Best time to visit: The doors of this temple get open on the auspicious day of Akshaya Tritiya that falls in the last week of April or early May. The best time to visit Yamunotri is from May to June and September to October.
Gangotri - A sacred place where River Ganga starts, Gangotri is one of the four religious sites of Char Dham Tour by Car. Gangotri is popular for its oldest temples and its religious significance that pull off the attention of devotees from all across the country. Ganga Temple is the main highlight of this place

Best time to visit: The Gangotri temple remains open from the start of May till the arrival of Diwali Festival in October or November. Because of the heavy snowfall in the region during the winter season, the temple remains closed and the idol is shifted to Mukhyamath Temple.
Kedarnath - Flanked by magnificent snow-clad peaks, Kedarnath is one of the most sacred places to visit in India which is a major part of Char Dham Tour from Jaipur. The Kedarnath Temple is one of the 12 Jyotirlingas and is flocked by tourists from all over the country.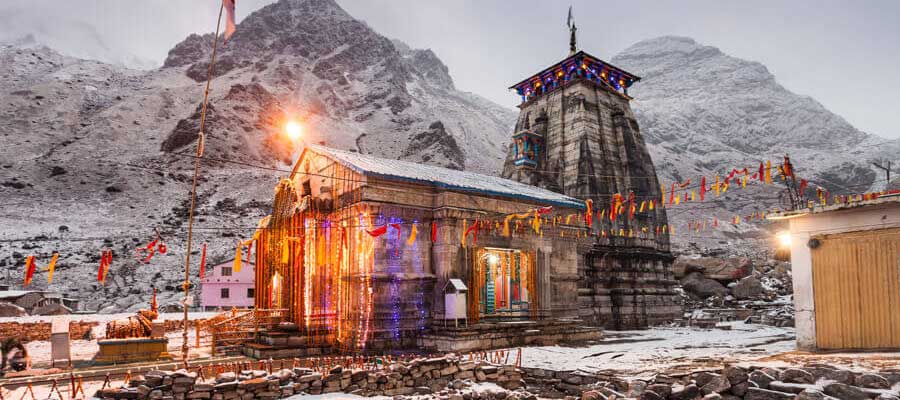 Best time to visit: The extreme climatic conditions of Kedarnath allows the devotees to visit the temple for 6 months in a year which starts from the end of April to the start of November. During the winter season, it receives heavy rainfall which makes it difficult for inhabitable.
Badrinath - Located in a heavenly place, Badrinath is another destination which you will visit on you Char Dham Trip by Car. This place is mainly famous for its Badrinath Temple that houses an idol of Lord Badrinarayan, an incarnation of Lord Vishnu. Besides this, the Panch Badri temples in this place are other major attractions of devotees.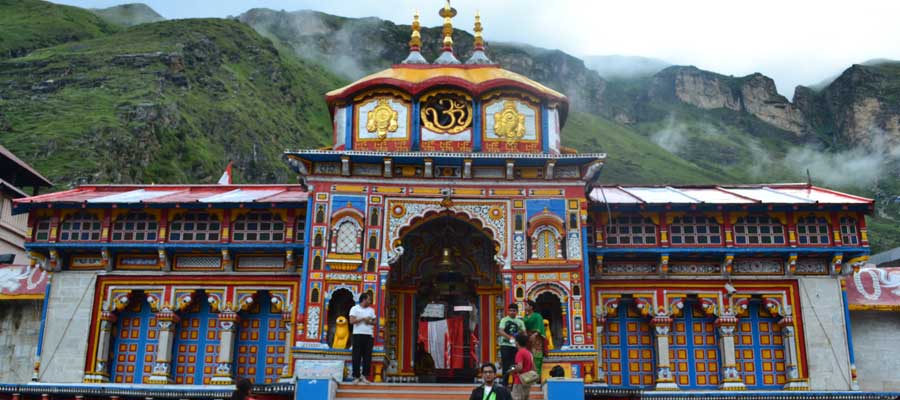 Best time to visit: The months of May to June and September to October are considered as the best time to visit Badrinath. During the monsoon season, there are chances of landslides in Badrinath due to which it is advisable to avoid travelling during this season. Also, the tourists are not advised to visit during winters as the region receives heavy snowfall and harsh cold conditions which can become a barrier in the sightseeing tour. The Badrinath Temple remains closed from November to April.
Best suggested tour plan of Char Dham Tour -

Here's a suggested Char Dham Yatra Tour Package which you can choose for exploring the most famous revered destinations of India. This tour will last for 11 nights and 12 days which starts from Jaipur and then enjoy a swift ride on the best Car Rental service in Jaipur. From Jaipur you will proceed for Delhi, Haridwar, Barkot, Yamunotri, Barkot, Uttarkashi, Gangotri, Guptkashi, Kedarnath, Badrinath, Joshimath, Rudraprayag, Haridwar, Delhi, and then return back to Jaipur. The best way to schedule your tour is:
Day 1: Jaipur - Delhi - Haridwar
Day 2: Haridwar - Barkot
Day 3: Barkot - Yamunotri - Barkot
Day 4: Barkot - Uttarkashi
Day 5: Uttarkashi - Gangotri - Uttarkashi
Day 6: Uttarkashi - Guptkashi
Day 7: Guptkashi - Kedarnath
Day 8: Kedarnath - Guptkashi
Day 9: Guptkashi - Badrinath
Day 10: Badrinath - Joshimath - Rudraprayag
Day 11: Rudraprayag - Haridwar
Day 12: Haridwar - Delhi - Jaipur
If you are willing to get the best spiritual escape in India, then book your Char Dham Yatra tour by car with us and enjoy your most wonderful journey in the country while experiencing the inner beauty of spirituality and nature at the destinations covered in this tour. Have a safe and secure ride in our car rental service and make your trip the most memorable one of life.