Jaipur Tour Package for Family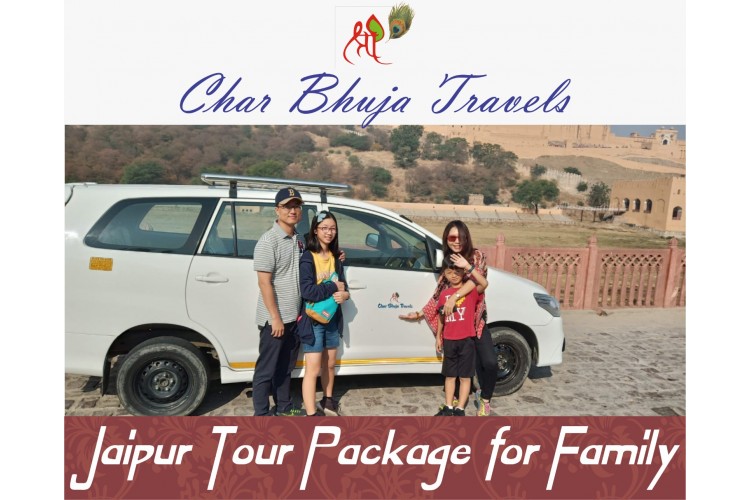 Jaipur Tour Package for Family
Char Bhuja Travels provides Cab service by offering Jaipur Tour Packages for Family in and around Jaipur for a comfortable ride. Call +91 9950991422 send an email at shricharbhujatravels1422@gmail.com for instant taxi booking.
Jaipur Family Tours (2 Night 3 Day Tour With Hotel) 2 Adult 2 Child
There are many cities in Rajasthan which are quite famous, among them there are many forts, many gardens, many stepwells, many heritage look mansions, but there is something different about the Pink City of Jaipur. There is a huge influx of domestic and foreign tourists here. Jaipur Sightseeing is very popular. It is more popular. There are three forts in Jaipur city. All three forts have different specialties. For Jaipur Sightseeing, you cannot get better service than Char Bhuja Travels. Their excellent drivers, neat and clean vehicles are available 24 hours at your service and you can also book All Rajasthan Tour Package by booking a taxi from Char Bhuja Travels. You can also book Golden Triangle Tour Package in which Sightseeing of Jaipur Delhi Agra come and in Rajasthan also you can book Golden Triangle Tour Package in which you can enjoy Jaipur Udaipur Jodhpur Sightseeing and also travel directly to Jaisalmer from Jaipur. You can and enjoy Sum sand Dunes desert there.
Ist Day Jaipur Sightseeing Tour - Starting your tour, we will first pick you up from Jaipur airport or railway station, after that you will be dropped at wherever you have booked your hotel as per your choice. After reaching there, you will freshen up and take some rest and then you will be taken to Jaipur For Sightseeing, our excellent experienced drivers will take you to visit all the Sightseeing in Jaipur. You will be satisfied, sit in our taxis and enjoy the Jaipur Tour Package for Family you have booked from Char Bhuja Travels.
1. Amer Fort : Amer Fort has been placed at number three in UNESCO World Heritage. It was recorded in 2013 that there is an 11 kilometer long security wall around Amer Fort. From the security point of view, to avoid any kind of terrorist or violent animals, There are three ways to go to Amer Fort, first way you can go by booking your taxi through our company, second way you can go on foot and third way you can go by riding an elephant. The king's family used to live in this fort and his army also used to live in this fort.
2. Elephant Village : If you get late in coming to Amer Fort and the elephant ride here is from 7:00 am to 11:00 am, after that all the elephants go to the elephant village, then the elephant ride is here for the whole day. All the guests who come to Jaipur Sightseeing and want to enjoy the elephant ride can go to the elephant village and ride on the elephant and can also do many activities with the elephants like feeding them, painting on the elephant. You can also do activities like bathing the elephant, playing with the elephant etc. in the elephant village.
3. Jal Mahal : Due to its proximity to the Aravalli mountain range, there is water all around the Jal Mahal. You can get your memorable photo clicked with your family here
4. Hawa Mahal : In the morning, as the sun rays fall directly on the Hawa Mahal, you can stand in front of it and take a photo.
5. City Palace Museum : City Palace is situated very close to the most famous temple of Jaipur, Govind Dev Ji. In this City Place Museum, the means of transportation of the kings and maharajas, the clothes worn by them and many types of weapons are displayed for viewing.
6. Jantar Mantar : Jantar Mantar is located very close to the City Place Museum. By coming here you can feel how in ancient times, time, day and year were known from astronomical structures.
7. Albert Hall Museum : Albert Hall Museum is located near Ram Nivas Garden and SMS, the largest hospital of Rajasthan. This museum continues to make the heritage look of old times memorable even today and many memorabilia that keep the existence of kings and maharajas alive are decorated in this museum.
8. Birla Temple : Birla temple situated on the JLN marg looks very beautiful, it is made of beautiful white marble and it also has a very beautiful garden. And the photo of Swaminarayan is present in this temple.
9. Ganesh Temple : Ganesh Temple is situated very close to Birla Temple and is called the largest temple of Jaipur. It is also called Moti Dungri Ganesh Temple.
IInd Day Jaipur Sightseeing Tour
10. Jaigarh : Jaigarh Fort is situated just above Amer Fort, where the world's largest cannon is kept. And a museum of weapons of the king's army is also built in it. This photo was made for the army.
11. Nahargarh Fort : Nahargarh Fort is situated at the end of the Aravalli ranges, 3 kilometers ahead of Jaigarh Fort. From here you can have a wonderful view of the entire Pink City and can also enjoy dinner at the Padav restaurant located here. From here you can also see the lights of the entire city. will get
12. Kanak Garden : Kanak Garden is situated before the Amer Fort entrance gate and near it the old Govind Dev Ji temple, which dates back to the time of Raja Maharajas, is also situated. This garden is built near the Aravalli mountain range.
13. The Royal Gaitor : The Royal Gaitor is located near the Garh Ganesh temple. It houses the mausoleum of kings and queens and has beautiful marble umbrellas.
14. Zoo : There are two zoos located in Jaipur, one in Ram Niwas Garden near Albert Hall and the other in Nahargarh Garden on Delhi Road. All types of animals and birds are present in both the zoos.
15. Birla Planetarium : Birla Pentanium is located near Statue Circle. In this, 3 show are run for children from noon onwards on astronomical structures. First Show at 1:00 pm, second Show at 3:00 pm and third at 5:00 pm. This show is of 50 minutes.
16. Galtaji : Galataji is situated outside the city in the eastern direction, it is a pilgrimage site. And it is also quite ancient, there is a Mahadev temple and a stream of water keeps flowing from Gomukh.
17. Sisodiya Rani Garden : Sisodiya Rani Garden is situated on the way from Jaipur to Agra. This is one of the very beautiful gardens and the Sisodiya dynasty used to live here, on the basis of which this garden was named Sisodiya Rani Garden.
IIIrd Day Jaipur Sigtseeing Tour
On the last day in Jaipur Tour Package for Family, you will be taken on a tour of the beauty of Jaipur Pink City and you will be taken on a tour of the heritage villages located here and the most famous among the markets of Jaipur is the textile here which includes Jaipuri quilts, Jaipuri bedsheets and Jaipuri Sarees are very famous, apart from this, the handicrafts here and the jewelery and rattan of Jaipur are famous all over the world. You can decorate your house by shopping for all these and after shopping here, your Jaipur Tour Package for Family ends. After that we drop you at Jaipur Airport or Jaipur Railway Station to return home.
Hotel ( 2 Night Stay) with Toyota Eitos
Amount – 18,000/- Including 1 Room in (Couple 2 Adult 2 Kids) Breakfast, Dinner, Toll Tax, Parking, Driver Allowance, Per Day 4 Water Bottle 500 ml in Cab
Hotel ( 2 Night Stay) with Toyota Innova
Amount – 32,500/- Including 2 Room in (2 Couple 4 Adult 4 Kids) Breakfast, Dinner, Toll Tax, Parking, Driver Allowance, Per Day 4 Water Bottle 500 ml in Cab
Hotel ( 2 Night Stay) with Toyota Innova Crysta
Amount – 33,500/- Including 2 Room in (2 Couple 4 Adult 4 Kids) Breakfast, Dinner, Toll Tax, Parking, Driver Allowance, Per Day 4 Water Bottle 500 ml in Cab
Hotel ( 2 Night Stay ) with Tempo Traveller
Amount – 86,600/- Including 6 Room in (6 Couple 12 Adult 6 Kids) Breakfast, Dinner, Toll Tax, Parking, Driver Allowance, Per Day 4 Water Bottle 500 ml in Cab
Book your Package today and to know more about our services contact us at - +91 8094123422 or send an email at shricharbhujatravels1422@gmail.com