Jaipur Honeymoon Tour Package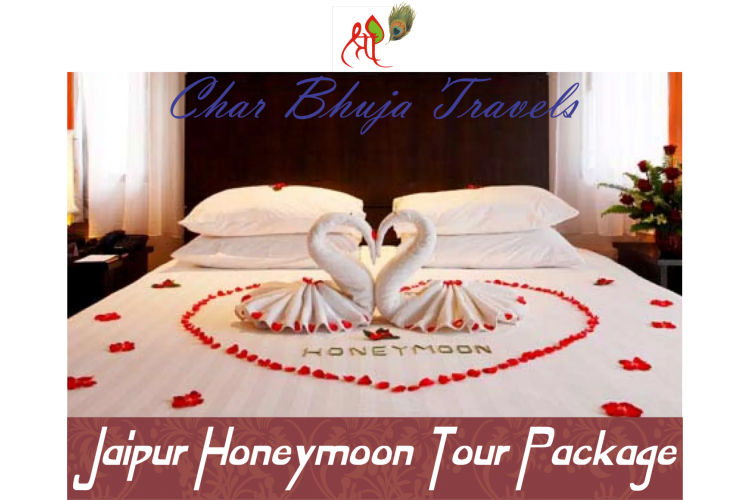 Jaipur Honeymoon Tour Package
Char Bhuja Travels provides Cab service by offering Jaipur Tour Packages for Family in and around Jaipur for a comfortable ride. Call +91 9950991422 send an email at shricharbhujatravels1422@gmail.com for instant taxi booking.
The popularity of Jaipur city is famous all over the world. Here many kings and maharajas built many forts over the years, including Amer Fort, Jaigarh Fort, Nahargarh Fort and the City Place in the middle of Jaipur city where the king and his entire family resided and at the present time. Even today the Royal Family lives here, apart from this, beautiful palaces like Jal Mahal and Hawa Mahal were built for the queens to live in. Queens and Maharanis used to come here to stay during the summer season. And Albert Hall Museum which works to add charm to the city of Jaipur or it can be called the Pink City.
In the Pink City, you can book your Jaipur Honeymoon Tour Package. From Char Bhuja Travels, you can book here well-mannered drivers and clean and nice new cars like Toyota Etios, Toyota Innova, Innova Crysta, Tempo Traveler etc. to see Jaipur Sightseeing. If you want to include some other cities of Rajasthan besides Jaipur city in your Honeymoon tour package, then you can also add those cities like Udaipur Sightseeing, Ajmer Pushkar Sightseeing, Jodhpur Sightseeing, Jaisalmer Sightseeing, Bikaner Sightseeing of all these cities. You can also add scenes to your Jaipur Honeymoon tour package. If you want to visit all the cities of Rajasthan, then you can also book a complete Rajasthan Honeymoon tour package. You will have at least 10 to 12 days to book a Rajasthan tour package. It is very important to have time. Apart from this we also have Rajasthan Tour Package for 8 days. If you are short of time then you can book Jaipur Honeymoon Tour Package from Char bhuja Travels for 2 nights and 3 days. If you have time for 4 nights and 5 days then you can add Ajmer Pushkar along with Jaipur Sightseeing. If you have time for five nights and six days, then apart from Jaipur Sightseeing, you can also add Ajmer Pushkar and Ranthambore safari in Jaipur Honeymoon tour package. Believe me, if you want to book Honeymoon tour package in Jaipur or any city in Rajasthan. If you want, then your honeymoon is really going to be full of beautiful fruits and you will never forget these moments, here you will have dinner at Chokhi Dhani in which you can see the culture of entire Rajasthan and also the most delicious food of Rajasthan. And you can also enjoy the famous food here, here you will also get the taste of food related to the soil of Rajasthan. This pink city is going to prove to be very good for your honeymoon photoshoot because of the traditional buildings and heritage look forts and mansions in which you can get your honeymoon movies decorated and take these memorable moments to your home and cherish them for a lifetime. can be made memorable.
Know when is the best time to visit Jaipur for honeymoon couples. : If you have thought that we should book Jaipur Honeymoon Tour Package for honeymoon, then you should discuss with your partner that which season would be suitable to visit a beautiful city like Jaipur.
Summer : Jaipur city of Rajasthan is very hot during the summer season, but a large number of tourists keep coming to the Pink City, due to this, tourists keep coming here even during the summer season. Summers in Jaipur city start from April. Gangaur Mahotsav lasts till July, turning both of these summers into cool weather for the tourists. Gangaur Mahotsav plays a particularly important role because the ride to Gangaur is captivating for all the tourists. Before enjoying traveling in this summer season, you should Drinking plenty of water and wearing sunglasses to enjoy the Jaipur Sightseeing gives a different kind of pleasure.
Monsoon : The fun of coming to Jaipur city of Rajasthan during the rainy season is something else because Jaipur has fallen from the Aravalli mountain range and this mountain range looks so beautiful in the rainy season that the mind becomes giddy just seeing it. Rainy season in Jaipur city in July This season lasts from September. Light rains in this season make the traveling season even more pleasant. In this season, shopping in the open markets and also the season for going on a picnic is very beautiful. The rainy season is also very beautiful. The temperature of Jaipur city also becomes pleasant in this season, it is a good time for you to book Jaipur Honeymoon tour package.
Winter : Jaipur Honeymoon Tour Package proves to be wonderful to visit in the winter season because maximum number of tourists come here in winter and there is no rain at this time, the weather remains open and the temperature is at very low level, so at this time you can enjoy Fort, Market. And it is a pleasure to visit the traditional mansion.
Hotel ( 2 Night Stay) with Toyota Eitos
Amount – 18,000/- Including 1 Room in (Couple 2 Adult 2 Kids) Breakfast, Dinner, Toll Tax, Parking, Driver Allowance, Per Day 4 Water Bottle 500 ml in Cab
Hotel ( 2 Night Stay) with Toyota Innova
Amount – 32,500/- Including 2 Room in (2 Couple 4 Adult 4 Kids) Breakfast, Dinner, Toll Tax, Parking, Driver Allowance, Per Day 4 Water Bottle 500 ml in Cab
Hotel ( 2 Night Stay) with Toyota Innova Crysta
Amount – 33,500/- Including 2 Room in (2 Couple 4 Adult 4 Kids) Breakfast, Dinner, Toll Tax, Parking, Driver Allowance, Per Day 4 Water Bottle 500 ml in Cab
Hotel ( 2 Night Stay ) with Tempo Traveller
Amount – 86,600/- Including 6 Room in (6 Couple 12 Adult 6 Kids) Breakfast, Dinner, Toll Tax, Parking, Driver Allowance, Per Day 4 Water Bottle 500 ml in Cab
Book your Package today and to know more about our services contact us at - +91 8094123422 or send an email at shricharbhujatravels1422@gmail.com