Jaipur Luxury Tour Package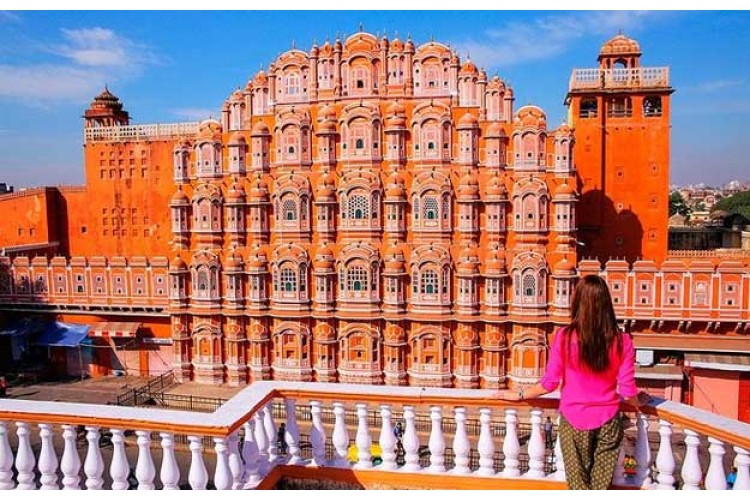 Jaipur Luxury Tour Packages
Char Bhuja Travels provides Cab service by offering Jaipur Luxury Tour Packages in and around Jaipur for a comfortable ride. Call +91 9950991422 send an email at shricharbhujatravels1422@gmail.com for instant taxi booking.
Relive the Royal Heritage With the Best Jaipur Luxury Tour Packages
Char Bhuja Travels offers you Jaipur Luxury Tour Package which includes the city of Jaipur in Rajasthan which is also known as the Pink City and many historical forts. Which makes you well acquainted with the glorious history of the pink city of Rajasthan and Jaipur city, tours are organized to many monuments here, apart from this, in Jaipur luxury tour package, you get pictures of the culture and folk tales of this place which tells you about the culture of this place. How the kings and emperors used to live their daily lives here. And in Jaipur, the food and delicious sweets here also tempt you and the sweets here are famous all over the world. That's why Char Bhuja Travels gives you everything you desire in a Jaipur luxury tour package. It is very important that you have one night and two days time in this package because there are so many tourist places here that you should have full 2 days time to see them. And for your stay, we have many traditional heritage hotels located in Jaipur which provide you the experience of being attached to the culture and kings and emperors of this place.
Jaipur city is the largest state of India, Rajasthan, whose capital is Jaipur and the capital of Jaipur is Amer Village, where many kings of Jaipur had made their residence and a place to stay for their army. Jaipur city was first named Pink City by Stanley Reed. Jaipur was founded by Maharaja Sawai Jai Singh of Amer. Jaipur was given the status of World Heritage City by UNESCO in July 2019. This city is surrounded by the Aravali ranges on all sides. The identity of Jaipur city is the ancient monuments here, the big kilos, the royal families who are still living in the city place situated in Jaipur city and in the entire Jaipur city which is the old Jaipur city, all the houses in it are painted pink and Dholpuri is made of stones which is the specialty of the architecture here. In 1876, the entire Jaipur city was decorated in pink color by the then Maharaja Sawai Ram Singh for the grand welcome of Queen Elizabeth of England, Prince of Wales, Prince Albert, since then the city of Jaipur was named Pink City and Albert Hall was named after him. It was built which is still situated today and fascinates all the tourists as a very magnificent museum. The city of Jaipur was named Jaipur after the name of King Jai Singh II. Jaipur is famous for India's most famous Golden Triangle Tour. Tourist places of Jaipur, Agra, Delhi have been added to this Golden Triangle Tour. By looking at the map of India, i.e. by looking at its location, these three lions take the shape of a triangle, that is why they are called the Golden Triangle of India. The distance from Delhi, the capital of India, to Jaipur is 280 kilometers. Pink The city of Jaipur, which is known as the old city, is surrounded by walls and ramparts around the city and seven gates have been installed to enter this old city, the Pink City. The most famous tourist places in Jaipur which will be shown to you in Jaipur Luxury Tour package are Amer Fort, Jaigarh, Nahargarh City Place Museum, Hawa Mahal, Jal Mahal, Jantar Mantar, Albert Hall Museum,Royal Gaitor, Zoo, Birla Mandir, Ganesh Temple, Elephant Village.
Hotel ( One Night Stay) with Toyota Eitos
Amount – 10,650/- Including 1 Room in (Couple 2 Adult) Breakfast, Dinner, Toll Tax, Parking, Driver Allowance, Per Day 4 Water Bottle 500 ml in Cab
Hotel ( One Night Stay) with Toyota Innova
Amount – 18,600/- Including 2 Room in (2 Couple 4 Adult) Breakfast, Dinner, Toll Tax, Parking, Driver Allowance, Per Day 4 Water Bottle 500 ml in Cab
Hotel ( One Night Stay) with Toyota Innova Crysta
Amount – 19,300/- Including 2 Room in (2 Couple 4 Adult) Breakfast, Dinner, Toll Tax, Parking, Driver Allowance, Per Day 4 Water Bottle 500 ml in Cab
Hotel ( One Night Stay ) with Tempo Traveller
Amount – 45,600/- Including 6 Room in (6 Couple 12 Adult) Breakfast, Dinner, Toll Tax, Parking, Driver Allowance, Per Day 4 Water Bottle 500 ml in Cab
Book your Package today and to know more about our services contact us at - +91 8094123422 or send an email at shricharbhujatravels1422@gmail.com