Jaipur Shekhawati Taxi Service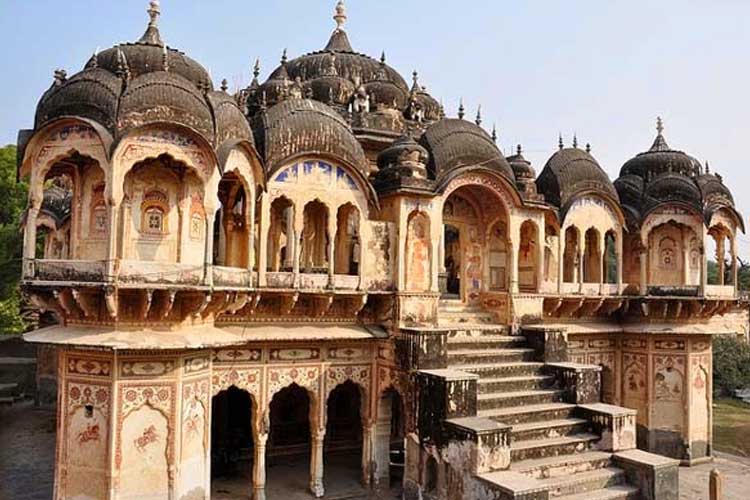 Rajasthan's only hidden jewel and its secret that is least revealed by tourism, Shekhawati region is most applauded for its overwhelming charm of exotic paintings on grand Havelis of former Rajput Maharanas. Accentuated with whimsical yet dazzling murals, the Shekhawati of Rajasthani is appreciated for its extraordinary artistic features, especially the realm of enchanting Havelis that stand out the beauty of Shekhawati from a huge crowd. Today, when the tourists visit this beautiful paradise on Rajasthan Tour become more curious and wonder of such attention, care, and exceptional grandeur showered to this region and the mansions.
Jaipur to Shekhawati Taxi is the best way to make an excursion from the city of Jaipur to this magnificent destination that ensures a mind-blowing experience of royal lifestyle at Shekhawati. On this journey, you'll be pick-up from your pre-defined location in Jaipur and then head towards Shekhawati by Car or Taxi or Tempo Traveller, whichever suits your interest and budget. While enjoying the guided road trip with our experienced and licensed chauffeur, you'll be able to feel the real essence of Rajasthani culture that hides away in the villages that introduces you with the real beauty of the royal state.
Once you've arrived in Shekhawati, you may go exploring some of the most featured attractions in this region and spend the remaining day as per your discretion.
Places to visit in Shekhawati Region -
Sethani ka Johara - Resting on the northern side perhaps 5 kilometers west of Churu along the Ratangarh road, Sethani ka Johara is the finest reservoir in the surrounding attractive locality. This was built in 1899 by the widow of Bhagwan Das Bagla as a femine relief project in the area. This peaceful reservoir attracts several migratory birds and animals during the winter season.
Kanhaiyalal Bagla Haveli - A fascinating structure stands on the south of main market in Shekhawati, Kanhaiyalal Bagla Haveli was constructed around 1880 which represents the finest lattice artwork and excellence of architectural styles in the entire region. The murals and paintings on the walls of haveli depicts Dhola and Mari - the romantic couples of Rajasthan.
Ratangarh Fort - Settled on Agra-Bikaner highway, the Ratangarh Fort was founded in the early 18th century by Surat Singh, who named it after his son Ratan Singh. It boasts of the imposing getaways, several monuments, and a clock tower, which is also known as Ghantaghar.
Aath Kambh Chhatri - One of the buildings possessing an immense historical significance, Aath Kambh Chhatri is an eight pillared dome that stands on the northern side of the town. Over the years before, the windblown sand has virtually buried the base of the structure, while the interiors are beautifully adorned with astounding murals and paintings.
Laxmangarh Fort - Amazing fortress stands tall as the most impressive building in Laxmangarh town, looming majestically over the well-laid township on its western edge. An exceptional specimen of fort architecture all over the world.
Special things that makes it noteworthy -
Biyani Haveli's at Sikar
Finest frescoes of Nawalgarh
Lavishing Havelis of Laxmangarh
Handicrafts of Mukundgarh
The World's Largest Open Art Gallery - Shekhawati
And there's no dearth of amusing attractions that leaves you enchanted for a while.
Why should you choose Charbhuja Travels?
Our transparent billing policy does not involve any hidden charges, this makes our clients trust us completely.
Last-minute bookings are easily available, so don't worry about anything because we are here.
Ensuring on-time pickup & drop service at your prescribed location.
Hassle-free ride with our experienced Drivers on outstation trips in all over India.
Assured secure & safe journey with professional chauffeurs.
Multiple options for traveling across India -
Family Tours - From our great collection of cars & taxis, small or big family trips can be planned by choosing Taxi Rental Jaipur or Tempo Traveller as per the capacity of passengers.
Luxury India Travel - We maintain an exclusive range of luxury cars and tempo travellers decked up with high-quality amenities and lavishing interiors can uplift your traveling experience.
Solo Travel - Traveling as a solo traveler could be a big hassle and where safety is concerned, you'll need to have the right travel agent with you. Charbhuja Travels ensures your 100% safe travel anywhere in India.
Budget Tours - Our range of Cars and Taxis at nominal prices are exclusively meant for Budget travelers who can opt for the best match as per their interests at affordable rates.
Group Tours - For all the group travelers' perfect pick, Tempo Traveller in Jaipur is a right way to travel around India while enjoying a comfortable ride with all improvised amenities of this vehicle.
For more inquiry, get in touch with our experts through mail at shricharbhujatravels1422@gmail.com or call us on +918094123422.