Tempo Travelers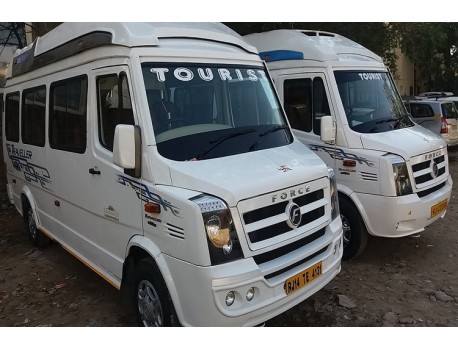 Now traveling together in a group becomes easier with Tempo Traveller in Jaipur services of Charbhuja Travels. We can be the best choice for the traveler who is planing their group tour with friends or families. For any tour from Jaipur, you can hire tempo traveller in Jaipur at the best affordable rates and enjoy your hassle-free ride with us. It can make your journey comfortable within your budget.

By choosing our Tempo Traveller services in Jaipur, you can travel around the state of Royal Rajasthan which is an amazing place to plan holidays in India. There are so many places to visit in Rajasthan having their own unique charm that attracts visitors from all across the globe. People can choose to visit Jaiselmer, Bikaner, Jodhpur, Kota, Udaipur, and many places in Rajasthan by tempo traveller and enjoy their vacations to the fullest. Most of the people choose to go to Rajasthan on a mini-tour to visit the most important and popular spots of the state. If you are also planning the Rajasthan trip, then renting our cab or tempo traveler service is the wisest option to make your transportation hassle-free.

We have 12 seater tempo traveller, 9 seater tempo traveler, or luxury tempo traveler from which you can choose the best suitable one of your interest and comfort. Getting the right transportation services on your trip to any destination from Jaipur can play a very important role in enhancing the travel experience. The vehicles we offer are fully modulated with top-class features and amenities that can enable your journey to go with ease and comfort.

Features of our tempo travellers -

The Tempo travellers vehicles we offer have a huge capacity of accommodating a group of 12 or 16 passengers and a driver. It is comprised of a full air conditioner and heater facility along with Mic, Icebox, first aid box in the vehicle. There, on the other hand, LCD, DVD, Video player, and Bluetooth facility for music can be an option for getting entertained during the course of your journey.

Tempo Traveller Rental for Outstation Tours

Now hiring a Tempo Traveller for outstation tours has become more convenient with Charbhuja Travels. We conduct the best-customized tours for a wonderful holiday escape from Jaipur while getting opportune to experience the utmost comfort in clean and sanitized vehicles. Our Outstation Tempo Traveller Rental service comprises of an eventful travel experience to any of your preferred tourist destination. Be it for a same-day tour or for enjoying a weekend getaway with family, the well-maintained fleet of vehicles are best suited for every kind of expedition from Jaipur.

Places to explore near Jaipur by Tempo Travellers –

If you are someone looking for the best excursion trips from Jaipur along with a group of 9 to 16 passengers, then make use of your money in the smartest way by hiring a suitable vehicle for your journey. Here we've listed some of the most hand-picked places to visit near Jaipur –

Sikar –
Located in the Shekhawati region of Rajasthan, Sikar has been widely famous for its intricately carved architectural marvels showcased in the form of grand Havelis and forts that are adorned by the fresco arts. This wonderful city is approximately 115 kilometers away from Jaipur and can be easily explored on the same day tour. Discover the magnifying beauty of this place in the comfort of Tempo Traveller in Sikar which can make your journey stress-free.

Hanumangarh –
Situated 398 kilometers away from Jaipur, there lies a small town of Hanumangarh which was formerly the kingdom of Bhati Kings. This city is the home of the famous Bhatner fort, an edifice whose structure dates back to the bygone era. Traveling on a Tempo Traveller Rental in Hanumangarh will let you uncover its historical significance while exploring its historical attraction.

Nathdwara –
Nestled amidst the Aravali Hills lies Nathdwara which is originally referred to as The Getaway of the Lord. It is a famous sacred place on the banks of River Banas which is in a pristine location. It is mainly famous for Pichwai Paintings which are originally Rajasthani style paintings and terracotta work. This one is considered as the hub of traditional handicrafts, arts, and artifacts, which can be bought during Jaipur to Nathdwara Tempo Traveller Rental.

Pali –
Hire Tempo Traveller in Pali for a wonderful group tour around the city which has been prominently known as a hub for merchant activities for generations to generations. It is beautifully enclosed with several religious temples that can satiate your wanderlust souls by offering an amazing cultural and historical significance.

Mathura Vrindavan –
Embark the prominent holy cities of India with a trusted Tempo Traveller in Mathura Vrindavan. Well referred to as the Land of Lord Krishna, Mathura Vrindavan is located on the banks of River Yamuna. It invites devotees from far and wide to seek the blessings of God and give a peek into the era of the divine power of Lord Krishna's Phase.

Bhilwara –
Choose the best 9 seater Tempo Traveller in Bhilwara for experiencing the enriched beauty of textile and looms in the city of Bhilwara. It was formerly a home to several world's most renowned Ramdwara of Ramsnehi Sampraday who was the founder of this place. Today it has become the most loved tourist places to visit in Rajasthan.

Chittorgarh –
A renowned city of Pride and Honor, Chittorgarh was earlier the capital of Mewar Kingdom which is a famous land of forts, castles, ruins, and immortal folklores of heroism and sacrifice. Enjoy a smooth and comfortable travel experience in the city, you may discover magnificent fortress, impressive architectures, and more on your Tempo Traveller Rental in Chittorgarh.

Bikaner -
Hire a Tempo Traveller in Bikaner for a wonderful sightseeing tour of this Camel Country of Rajasthan. Bikaner is widely famous for its vibrant deserts, grand forts, thrilling desert safaris, and much more that makes it a real paradise for fun lovers or travel enthusiasts. Experience the glorifying past of the bygone era and enjoy the hassle-free drive in the city.

Jaisalmer -
Well-known to be the Golden City of Rajasthan, Jaisalmer is enclosed with a vast spread of The Thar Desert which amazes everyone in many different ways. Discover the historical jewels of the city on your sightseeing tour and get indulged in some exhilarating desert adventures that can leave you awestruck. Hire Tempo Traveller in Jaisalmer and enjoy your group holidays in the desert city to the fullest.

Udaipur -
Are you planning for a weekend getaway with family to Lake City? If yes, then choosing a 10 seater Tempo Traveller Rental in Udaipur will surely help you to boost up your travel experience in the most amazing way. Discover every nook and cranny of the city and enjoy your remarkable journey in the most comfortable way.

Jodhpur -
Step into the land of Blue City in Rajasthan on your group holiday and experience the majestic history of the Mewar kingdom. It is beautifully enclosed with grand forts, royal palaces, and other heritage sites which can be a part of your sightseeing tour. Choose the best Tempo Traveller Rental in Jodhpur and discover the Sun city in the comfort of this grand vehicle.

Besides, all these aforementioned places near Jaipur, Shekhawati, Nagaur, Mehandipur Balaji, Jhunjhunu, Kota, and Alwar are the best travel options to go for a remarkable journey in Rajasthan.

Why choose our luxury tempo traveler services:
We offer you an opportunity to hire a tempo traveller in Jaipur Rajasthan at a competitive price.
We can find various options ranging from 12 seater tempo traveller, 9 seater tempo traveller, or luxury tempo traveller to all-seater tempo. It helps make your group trip comfortable and pocket-friendly.
You will surely love our on-time and quality services.
We have trained and experienced drivers.
Best customer support services to resolve your queries associated with on rent tempo traveler and many such issues.
Book Tempo traveler process without any hassle
No hidden charges
Easy Booking process
15+ years of experience
Stay in touch with us for more details regarding Tempo Traveller service of Charbhuja Travels you can call us, drop an email, or chat online with our experts, we would love to serve you 24*7.