Udaipur Tour Package from Jaipur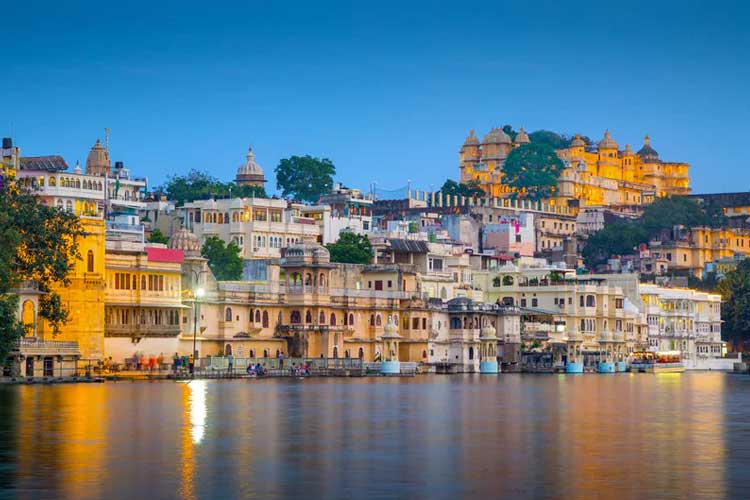 Tour overview at glance - Rajasthan's very own majestic yet romantic tourist destination, Udaipur is widely famed for its beautiful landscape covering mighty Aravali Hills that envelops the city, serene lakes, and complete magical ambiance that offers a pleasant environment to spend holidays to fullest. The amazing Udaipur Tour Package Itinerary is so framed in such a way that you can customize it as to the best of your interest and make your journey full of memories and rejuvenations.
Tour Duration - The duration of this tour depends on your interest because the following Udaipur Tour Itinerary is fully customized according to your tastes and choices. You can either choose this for your short trip of 1 night 2 days or can plan this as a fun-filled weekend trip to Udaipur from Jaipur.
Kick start your journey to Udaipur from Jaipur while enjoying the comfort of chauffeur-driven car or tempo traveller, if you are traveling in a group. Jaipur to Udaipur Taxi is perfectly an ideal choice for every kind of traveler wherein you can fully-focus on your holiday trip without having any stress or hassle. Be it for reaching the destination on time or saving money while traveling, it would be more convenient to travel around with your loved ones. This particular travel itinerary is focused on making your tour easily accessible through our reliable and trusted car rental services in Jaipur.
Udaipur, Rajasthan's Venice of East - Stunning abode of serene and artificial lakes, Udaipur is often called as the "City of Lakes" which is purely a nature's paradise on earth. Being one of the eminent places to visit in Rajasthan, Udaipur remains flocked with travel enthusiasts who visit the city to refresh their soul with its magical environment. Perfectly enveloped with Aravalli Hills in all the directions, it spreads an ultimate fascination of nature that leaves everyone spellbound. It perfectly justify the names that ever matches to its charm, be it the "Jewel of Mewar" or
"Venice of the East".
Places to visit in Udaipur - Discover the magnificence of Udaipur on Jaipur taxi Rental and explore its beauty and heritage in one go while covering some of these best places to visit -
City Palace - Beautifully resides on the banks of Lake Pichola, City Palace is the most favourite place on the bucket list. The stunning structures of the palace showcases its testimonial effect of the glorifying past of Rajput dynasty.
Monsoon Palace - Frequently known as Sajjangarh Palace, this royal architecture is a hilltop palatial residence which was constructed by Maharana Sajjan Singh of Mewar dynasty after whom it was named so.
Fateh Sagar Lake - From all the serene artificial lakes of Udaipur, Fateh Sagar Lake is collectively connected with three islands that can be reached through boating. Spending evenings at the lake side during the sunset will surely steal your heart for once.
Kumbhalgarh Fort - Reaching to the Majestic Kumbhalgarh Fort takes 65 kms drive from the city of Udaipur which is probably an extravagant place to visit. The grand stretch of wall is spreaded across 30 kms which is the largest version of The Great Wall of India.
Eklingji Temple - One of the well-known religious shrines in Udaipur city, Eklingji Temple stunningly showcases the brilliant artistic style of architecture. The temple houses our faced idol of Lord Shiva revered by the pilgrims throughout the year.
Karni Mata Temple - The famous Hindu Temple in Udaipur, Karni Mata Temple is highly revered by the Hindu pilgrims on a larger scale. Situated on the Machla Magra Hills in Udaipur, Karni Mata Temple is often known as the Rat Temple because of being a home of countless rats.
Car rental for Udiapur

Jaipur Taxi Rental is one of the best ways to complete the miles-long journey in a smooth and comfortable way. Choosing the right vehicle for your travel support enables your getaway to Jodhpur becomes the most memorable one of life. At Charbhuja Travels, we have maintained a large fleet of cars ensuring the exceptional quality of drive in a way you desire for. For those having rich tastes and preferences can put their attention towards our Luxury Car Rental options that includes Mercedes Benz, Audi A5, and many others.
Is it a great choice for COVID-19 travel?

Our experienced and professionally trained driver under WHO guidelines, enables you to have safe intercity transfers in the best suitable way. While following the safety guidelines of experts, we have successfully served a lot of people who are willing to get transferred from one place to another and that too with the utmost safety. To cater the requirements of our clients we have taken all the safety measures guided by WHO and deliver our best to our clients. So, if you are looking for the best Taxi service in Jaipur for a safe ride in COVID-19, then quickly book your services with us and get a hassle-free drive throughout the city.
For group travelers, our fleet of cars maintains a special range of Tempo Traveller Rentals to provide them a comfortable journey in Rajasthan and beyond the state.