Char Dham Yatra Package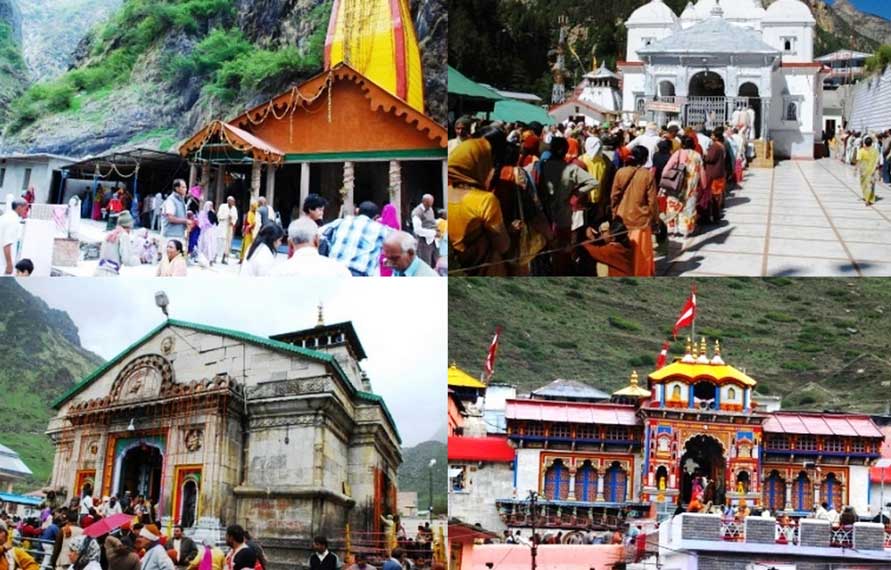 Duration of the Tour: -11 Nights and 12 Days
Destinations Covered: - Jaipur - Delhi - Haridwar - Barkot - Yamunotri - Barkot - Uttarkashi - Gangotri - Guptkashi - Kedarnath - Badrinath - Joshimath - Rudraprayag - Haridwar - Delhi - Jaipur
Day 1: Jaipur - Delhi - Haridwar
You will meet our tour manager at your desired location in Jaipur and then head off for Delhi. On your arrival in Delhi, take some rest and refreshments. Thereafter, drive towards Haridwar by Car and driver. Arrival and get transferred to your place of stay. Then visit Har ki Pauri in the evening to attend the aarti and stay back in Haridwar.
Day 2: Haridwar - Barkot
On the 2nd day of this tour, you will drive to Barkot via Mussoorie and Dehradun. Afterward, you will visit Kempty Hall and its nearby areas and then take a drive towards your hotel for your night stay in Barkot.
Day 3: Barkot - Yamunotri - Barkot
Start over with your drive to Hanuman Chatti for the Janka Chatti. From here you will trek to Yamunotri which is around 8 kilometers away. Attend evening aarti ceremony and take a revered bath in Jamunabai's Kund.
Day 4: Barkot - Uttarkashi
Take a drive to Uttarkashi from Barkot and then on arrival you will visit Vishwanath Temple. Uttarkashi is stunningly located on the banks of river Bhagirathi and the temple of Vishwanath is the most important highlight.
Day 5: Uttarkashi - Gangotri - Uttarkashi
Today, you will head to Gangotri where you can enjoy your day while exploring the attractions of the city. Visit Harshil village, Bhagirathi River and enjoy its breath-taking views of Himalayas. Return back to Uttarkashi for your night stay.
Day 6: Uttarkashi - Guptkashi
The day is designed as your visit to Guptkashi by car and driver where you will explore its nearby attractions. You may enjoy your day as per your interest and visit its nearby temples. The night stay is in Guptkashi.
Day 7: Guptkashi - Kedarnath
Today in the morning, drive towards Sonprayag to start over with your trekking to Kedarnath which is a fun and exciting thing to do. Do not forget to carry your personal medications, warm clothes, and other needful stuff with you.
Day 8: Kedarnath - Guptkashi
In Kedarnath, you will visit the most popular Kedarnath Temple. Later, return back to Guptakashi to get freshen up. Thereafter, you may go for exploring the nearby places while getting assisted by our car and driver.
Day 9: Guptkashi - Badrinath
Today, you will head off for Badrinath via Joshimath. Arrival and get freshen-up. Later, you will visit Badrinath Temple and attend their evening aarti ceremony. Badrinath is one of the most important attractions of Chardham yatra and it is the most famous spiritual attraction of India.
Day 10: Badrinath - Joshimath - Rudraprayag
After the Badrivishal Dharsh, take a holy bath in the taptkund which is believed to be the most revered bath for Hindu pilgrims. For pinndan shradh, Brahamakamal is renowned for the shradh of ancestors. Also visit the Vyas gufa, Mana, Charanpaduka, Maatamoorti, and Bhimkund. Afterward, you will return back to Rudraprayag via Joshimath followed by your stay.
Day 11: Rudraprayag - Haridwar
The day is designed as you will head towards Rishikesh - the famous holy destination of India. On arrival, visit the most highlighted attractions of the Rishikesh sightseeing tour. The city is well famed as a "Yoga Capital of India" due to its pleasant ambiance that allows a relaxing escape as well. After sightseeing, drive towards Haridwar. Arrival and get transferred to your hotel.
Day 12: Haridwar - Delhi - Jaipur
The last day of this tour will be scheduled as your drive back to Jaipur via Delhi. On arrival in Delhi, take a stop for a few hours and get some refreshments. Afterward, continue your drive to Jaipur. Upon your arrival, you will be transferred back to your desired location and here ends your Chardham Yatra from Jaipur with a bag full of memories to recall later.
Please Note: This tour can be easily customized as per your needs and interest. So, you can make changes and tailor-made your Chardham Yatra trip with us.