Tempo Traveler Jaipur: Discover the Pink City with Tempo Traveler
BY Admin
Where the pink hues symbolize the warm hospitality, royal forts shows the past, structures displays the fine art, Rajputana royal charm lies in every corner, "Jaipur" has no comparison on planet earth. Travellers are more attracted to the planet due to the royalty it owes. The city leaves no way to entice the explorers with its vivid lifestyles and lavish charm. Well known as the Pink City of India, Jaipur is adorned with pink-painted walls of the walled city which spreads pink hues all over the town. Right from the grand forts hovering on the hillside to the bustling market lanes of the city, there is everything for all kinds of travellers.

The pink city has enough to make your holidays remarkable. If you are someone who is planning for a weekend getaway or holiday trip with the family, then Jaipur is definitely a place for you. Whenever it comes to plan a vacation with a group of friends and family, the budget always strikes too high along with a problem of a way to get around in the city. To deal with this situation there is no better way to travel all-together with your squad be it your family or friends, then booking a perfect tempo traveller which is featured with top-class facilities and services that ensures your journey go with ease and comfort.

Why choose travelling in a tempo traveller over other local means of transportation?


Well, now that's a genuine question that you might be wondering for! However, the city is well developed that makes it accessible through taxi, cabs, cars, buses and other local means of transportation, but when travelling with a group it is more important that you should feel safe and enjoy your journey without any hassle. Also when it comes to planning a budget trip with friends and family members, choosing a tempo traveller is the wisest option for all.
What are the facilities a tempo traveller offer?
It comes with a fully air-conditioned facility.
It has easy to manage the seat position by a Push Back Seat facility.
Curtains and clean set up
Top-quality music system with Bluetooth connectivity
Medical facility
GPS tracking service
A huge luggage space
Is tempo traveller for luxury tours?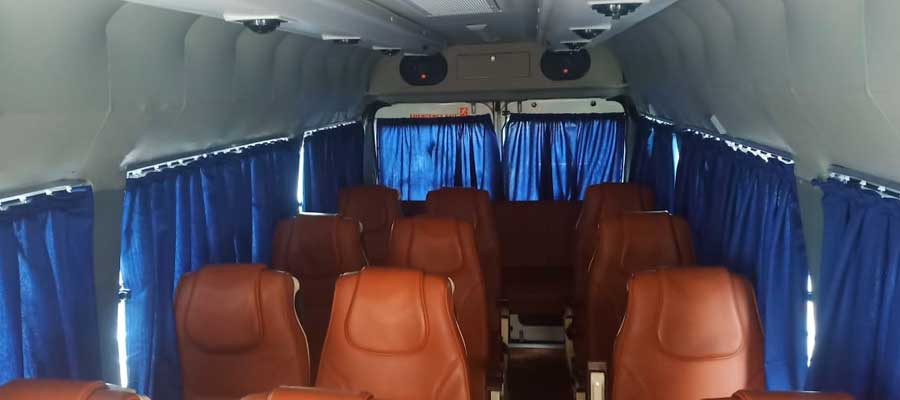 Yes, tempo travellers also come with luxurious facilities and amenities, that's enough for you to add a splash of luxury while travelling in and around Jaipur. You can easily chase luxury tempo traveller in Jaipur for your outstation tours from the pink city which lets you cover the nearby places where you can enjoy your vacation without worrying about anything.

Who is a reliable tempo traveller service provider in Jaipur?

Looking for the best way to plan a vacation with a group for friends, family or colleagues? Well, there's no better way to travel with your group than hiring a tempo traveller Jaipur service of Charbhuja Travels - an eminent and name in providing excellent tour and travel services in Jaipur. We offer excellent tempo traveller services in Jaipur which comes in different options of seaters to choose according to the no. of travellers in a group which ranges from 9 seaters to 12 seaters.

While travelling in Jaipur or planning any kind of outstation trip from Jaipur with your friends, family, or colleagues, tempo travellers will cater all your needs and wants within your budget. So be it your winter vacation or summer holidays, surprise your family with a mind-blowing travel plan as an outstation trip from Jaipur with them by booking tempo traveller service with us and get a bag full of memories from your tour to remember later.