16 Seater Tempo Traveler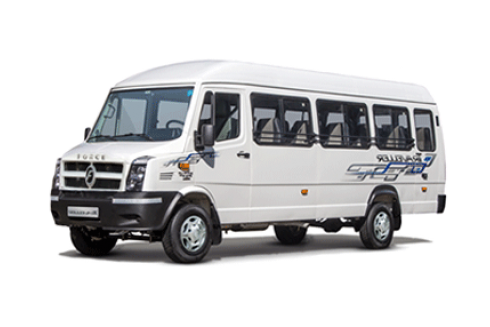 8 Hr / 80 km : 5000 + Parking
12 Hr / 120 km : 6000 + Parking
Extra Hrs : 550
Extra km : 25
Car Speed : 80km/h
Out Station Kms 25

Per day Minimum Running : 250 KM
Driver Allowance 300
10.00 Pm After Night 300 + Toll tax, Parking Extra
This Tempo Available Only For All Rajasthan
Bags : 12 Passengers : 16
Charbhuja Travel is a renowned name among the reliable tour and travel service provider in Jaipur. While considering the different wants of customers, we make sure to serve the customers with their best travelling experience with TempoTraveller services for exploring most of the major tourist attractions in a comfortable way. For those who are travelling in a group, choosing a deluxe Tempo Traveller is the best convenient option. The 16 seater Tempo Traveller in Jaipur provides you with great comfort for family trips, a journey with friends, and for corporate trips. For Jaipur sightseeing tour or outstation trips, holidays will become a hassle-free by renting a tempo traveller in Jaipur.

The Tempo Travellers we offer are well maintained with top class amenities including the arrangement of 16 comfortable seats. Also, there is a 2x1 seating arrangement or Pushback Seats which can make your journey go with ease and comfort. It can easily accommodate 16 passengers and their luggage in its large spacious at the backside of the seats. For an easy and comfortable ride with a group of people, hiring the services of Charbhuja Travels by booking 16 Seater Tempo Traveller is definitely a choice.

Features of 16 Seater Deluxe Tempo Traveller -
The Tempo Traveller is a tough vehicle which is facilitated with Air conditioner, heater, First Aid Kit, for entertainment, there's a high-quality LCD, DVD Video Player. It is a great way of making savings when travelling in huge groups as it comes at the best affordable prices which suit for outstation as well as local travel. The 16 seater Deluxe Tempo Traveller is the perfect vehicle in which one can enjoy the benefit of having a great time while travelling with your near and dear ones.

Seating Capacity: 16 Passengers + 1 Driver
For more enquiry, feel free to connect with us and get anytime assistance of our travel experts.